Today was baby shower day. I didn't wake up excited....which should have scared me. Oh well.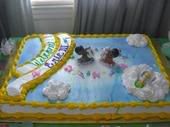 I had fun! I met Eric's aunts and his cousin Brandon for the first time. I was pleased with the way the decorations came out and the food was absolutely delicious. I really appreciate Eric's grandmother for making all of that food. I know it took forever. The gifts were amazing as well. We got some stuff that we really needed. And of course, more clothes! I'm far from complaining. Everything is adorable.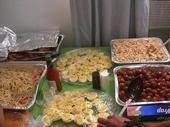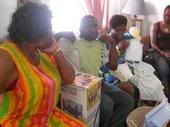 We played the normal baby shower games. I got offended when we did the piece of string around your belly one. Apparently, I'm as wide around as the half ton teen in a lot of peoples eyes! Oh well. It was all in good fun. The feeding the baby game was funny. We had to pair up and have one person blindfolded and the other person fed them applesauce with a baby spoon. Eric has video of it.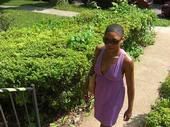 That's my sister. She's skinny.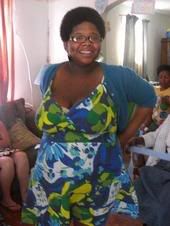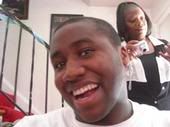 Me, me in my "hat", and Eric. He had on a shirt that said "I make good babies". I don't know who gave him that shirt....
I had a bit of a hard time being happy though. It was supposed to thunderstorm early in the day. When I went out early to go get my blood drawn and pick up a few last minute items, the sky was so dark it immediately dampened my spirits. Also, about 5 more people told me that they wouldn't be able to make it. I was really upset and I spent a good 20 minutes crying my eyes out. I wouldn't have been so upset if they hadn't waited until the day of to tell me they weren't coming. And hearing that "Oh I'm so sorry!" shit didn't help either. I don't forgive any of them. There's no reason that the day of you should be telling me that shit. Fuck them. And what made me even more upset? The girl who was supposed to be my best friend at one point....she's been telling me for weeks she was gonna be there. Like...she said she wouldn't miss it for the world. Ha. The shower was scheduled from 2-6. She showed up at 5:45 while we were taking everything down. And she had a fucking Starbucks cup in her hands which let me know that she had JUST stopped at Target to pick up my girft. And she had her "little sister" with her, who is also my friend, who for some reason thought that the baby shower was off. I had never told her that. Apparently Whitney, my supposed best friend, left her under that impression.
My whole gripe with her is that she knew it was very important to me. Granted, we've had our problems recently, but this is my first child. I'll never have another first child's baby shower. And she knows that. And it wasn't important enough to her to be there. Sure she showed up. But she missed everything. The food, the games, us opening our gifts, the music....she missed it all. And i cannot forgive her for that. At about 4 I had completely given up hope of her even showing up. So it really was a suprise when I saw her face. And she gave me this look...this...."I'm sorry, but I'm here!" look....and I wanted to kill her. I know that there were problems with getting a ride. But honestly? That should have been taken care of long before the day. And if she couldn't find a fucking ride, catch the fucking bus like Eric's friends did. They wanted to be there and they got there as soon as they could. And you know what's funny? His best friend ended up getting there at the same time. We were both pissed with our "best friends".
My true best friends showed up. Jamie was there early, she helped me set up, she took care of the games, and everyone loved her. Sabrina, dear heart that she is, came if only but for an hour or so. I love these two girls.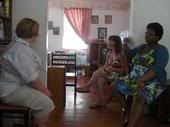 And you know what? Besides my family, they were the only friends of mine that showed up.
I'm not inviting anyone to our wedding.